Thabani Khumalo
Thabani Khumalo
[Tizzo Lob] (10 April 1985 / lob)
Biography of Thabani Khumalo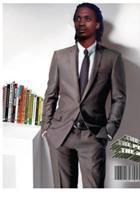 ALSO KNOWN AS THABANI LOB KHUMALO OR TIZZO STRAY LOB.
TMAN KIRY WAS BORN THE SECOND SON TO THE MZILIKAZI'S ROYAL DESCENT
- SITHEMBISO JEYI BUTHAKATHAKA KHUMALO AND ZANDILE NTOMBIYEZHI MNGUNI(SECOND DAUGHTER TO CHIEF BROWN NHLANSI MNGUNI,
WHOSE CHIEFDOM IS STILL UNDER THE MBHOMBHOTSHA REGENCY IN GLASSBLOCK 1,
MZIMUNI MASUKU) IN SOBENDHLE ON THE COLD SUMMER NIGHT ON THE 10TH OF APRIL IN 1985.
IN 1994 THABANI KHUMALO WAS CHOSEN INTO THE MINOR, WHICH WAS A MILITARY'S SECRET DIVISION THAT OPERATED UNDERCOVER AS BOY CUB SCOUTS IN ORLANDO LOB.
THE ORGANIZATION WAS MELTED DOWN IN DECEMBER 1995 AFTER INVESTIGATIONS HAD FOUND OUT THAT THE EXERCISE WAS NOT FIT TO CREATE WELL SOCIALIZED MILITANTS BUT MERE HEARTLESS ASSASSINS, SO THABANI WAS DEACTIVACTED AND MENTALLY DISARMED UNDER THE BAY BALUFU DIVISION: code no 201-23 BARRACKS U1 OF THE BRITISH LEGISLATION OF 1312.
BORN HOOVEN AND FORK TONGUED, TMAN KIRY ATTENDED SCHOOL AT IMBIZO PRIMARY: 1992 -1993 NYAMANDE PRIMARY: 1993 -1995 GRADIENT PRIMARY: 1995 -1998 GRADIENT HIGH: 1999 -2001 SAINT LOB HIGH: 2001 -2003 AFTER ACCOMPLISHING HIS HIGH SCHOOL STUDIES, HE WENT TO STUDY FARTHER AT THE CULT CENTRAL OF LOB AND DROPPED OUT BEFORE GRADUATING IN PHILOSOPHICAL WARINESS AND ALCHEMY.

Thabani Khumalo's Works:

upon stood a man 1.
the poems of Thabani Khumalo.
penultimatum: the words of the wise.
Profiles On Paper
I AM PART OF THE UNIVERSE
THAT BURNS THE SOUL OF MAN
WITH FIRE SO INTENSELY FRIGID - COLD,
A HEARTLESS GENERATION THAT IS DELIGHTED
TO SERVE INK ON PAPER THAN THEY DO
PEOPLE OF LIVING TISSUE.

PROFILES ON PAPER -
ALL WE ARE IS A PROFILE ON PAPER.