Thom Gunn
Thom Gunn
(29 August 1929 – 25 April 2004 / England)
Biography of Thom Gunn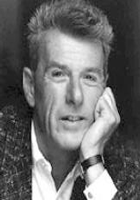 an Anglo-American poet who was praised both for his early verses in England, where he was associated with The Movement and his later poetry in America, even after moving toward a looser, free-verse style. After relocating from England to San Francisco, Gunn, who became openly gay, wrote about gay-related topics — particularly in his most famous work, The Man With Night Sweats in 1992 — as well as drug use, sex, and topics related to his bohemian lifestyle. He won numerous major literary awards.
This page is based on the copyrighted Wikipedia Thom Gunn; it is used under the Creative Commons Attribution-ShareAlike 3.0 Unported License. You may redistribute it, verbatim or modified, providing that you comply with the terms of the CC-BY-SA.
Painting By Vuillard
Two dumpy women with buns were drinking coffee
In a narrow kitchen—at least I think a kitchen
And I think it was whitewashed, in spite of all the shade.
They were flat brown, they were as brown as coffee.
Wearing brown muslin? I really could not tell.
How I loved this painting, they had grown so old
That everything had got less complicated,
Brown clothes and shade in a sunken whitewashed kitchen.