Thomas Davis
Thomas Davis
(14 October 1814 – 16 September 1845 / Mallow / County Cork / Ireland)
Biography of Thomas Davis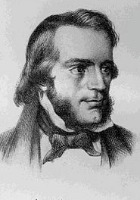 Thomas Davis was born in the town of Mallow in the county of Cork, the son of a Welsh father, a surgeon in the Royal Artillery, and an Irish mother. His father died one month after his birth and his mother moved to Warrington Place near Mount Street bridge in Dublin. In 1830, they moved to 67 Lower Baggot Street. He attended school in Lower Mount Street before studying in Trinity College, Dublin. He graduated in Law and received an Arts degree in 1836, precursory to his being called to the Irish Bar in 1838.

Writings

He established The Nation newspaper with Charles Gavan Duffy and John Blake Dillon. He dedicated his life to Irish nationalism.

He wrote some stirring nationalistic ballads, originally contributed to The Nation, and afterwards republished as Spirit of the Nation, as well as a memoir of Curran, the Irish lawyer and orator, prefixed to an edition of his speeches, and a history of King James II's parliament of 1689; and he had formed many literary plans which were brought to naught by his death, from tuberculosis, in 1845 at the age of 30. He is buried in Mount Jerome Cemetery, Dublin.

He himself was a Protestant, but preached unity between Catholics and Protestants. To Davis, it was not blood that made a person Irish, but the willingness to be part of the Irish nation. Although the Saxon and Dane were, Davis asserted, objects of unpopularity, their descendants would be Irish if they simply allowed themselves to be.

He was to the fore of Irish nationalist thinking and it has been noted by later nationalist heroes, such as Padraig Pearse, that while Wolfe Tone laid out the basic premise that Ireland as a nation must be free, Davis was the one who built this idea up promoting the Irish identity.

He is the author of the famous Irish rebel song A Nation Once Again. He also wrote the Lament for Owen Roe O'Neill.
This page is based on the copyrighted Wikipedia Thomas Davis; it is used under the Creative Commons Attribution-ShareAlike 3.0 Unported License. You may redistribute it, verbatim or modified, providing that you comply with the terms of the CC-BY-SA.
O'Brien Of Ara
Tall are the towers of O'Ceinneidigh
Broad are the lands of MacCarrthaigh
Desmond feeds five hundred men a-day;
Yet, here's to O'Briain of Ara!
Up from the Castle of Druim-aniar,
Down from the top of Camailte,
Clansman and kinsman are coming here
To give him the CEAD MILE FAILTE.