Thomas McGrath
Biography of Thomas McGrath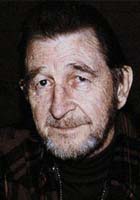 Thomas Matthew McGrath, (November 20, 1916 near Sheldon, North Dakota – September 20, 1990, Minneapolis, Minnesota) was a celebrated American poet.
McGrath grew up on a farm in Ransom County, North Dakota. He earned a B.A. from the University of North Dakota at Grand Forks. He served in the Aleutian Islands with the U.S. Army Air Forces during World War II. He was awarded a Rhodes Scholarship, at Oxford. McGrath also pursued postgraduate studies at Louisiana State University in Baton Rouge. He taught at Colby College in Maine and at Los Angeles State College, from which he was dismissed in connection with his appearance, as an unfriendly witness, before the House Committee on Un-American Activities in 1953. Later he taught at North Dakota State University, and Minnesota State University, Moorhead. He was married three times and had one son.
McGrath wrote mainly about his own life and social concerns. His best-known work is probably Letter to an Imaginary Friend published in sections between 1957 and 1985 and as a single poem in 1997 by Copper Canyon Press.
All the Dead Soldiers
In the chill rains of the early winter I hear something—
A puling anger, a cold wind stiffened by flying bone—
Out of the north ...
and remember, then, what's up there:
That ghost-bank: home: Amchitka: boot hill ....

They must be very tired, those ghosts; no flesh sustains them
And the bones rust in the rain.
Reluctant to go into the earth