Biography of Thomas Merton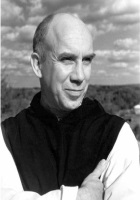 Thomas Merton, O.C.S.O. was an Anglo-American Catholic writer and mystic. A Trappist monk of the Abbey of Gethsemani, Kentucky, he was a poet, social activist, and student of comparative religion. In 1949, he was ordained to the priesthood and given the name Father Louis.

Merton wrote more than 70 books, mostly on spirituality, social justice and a quiet pacifism, as well as scores of essays and reviews, including his best-selling autobiography, The Seven Storey Mountain (1948), which sent scores of World War II veterans, students, and even teen-agers flocking to monasteries across the US, and was also featured in National Review's list of the 100 best non-fiction books of the century. Merton was a keen proponent of interfaith understanding. He pioneered dialogue with prominent Asian spiritual figures, including the Dalai Lama, the Japanese writer D.T. Suzuki, and the Vietnamese monk Thich Nhat Hanh. Merton has also been the subject of several biographies.
Thomas Merton Poems
Sweet brother, if I do not sleep
My eyes are flowers for your tomb;
And if I cannot eat my bread,
My fasts shall live like willows where you died.
Some one who hears the bugle neigh will know
How cold it is when sentries die by starlight.
1. Cairo 1326
Cloisters (khanqahs) of Darvishes
Built by aristocrats
Have silver rings on their doors
East With Ibn Battuta
1. Cairo 1326

Cloisters (khanqahs) of Darvishes
Built by aristocrats
Have silver rings on their doors
The mystics sit down to eat
Each from his private bowl
Each drinks
From his own cup