Tim Benton
Tim Benton
(6/17/1962 / Puyullup, Washington)
Biography of Tim Benton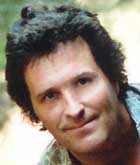 Born in Washington but raised in Wisconsin, Tim Benton was the fourth child to be born into a rather large family of eleven children. As a preacher's son, Tim of course went the way of most preachers' kids and was as wild as the day is long.
After all he has done and been through including running from himself, God, and the law, he'd finally came to a point in his life where he learned that the only way to find true happiness was to look up above for salvation.
He now lives happily with his family in Wisconsin.
You will find within his book the unique outlook that comes from someone that has tried out what the world has to offer, and found it all lacking! You will also find how he has finally found hope and happiness through the message that he is sharing and delivering.
"Conversations with an Angel: The Watchers" is the first book of a trilogy to come out.
Look forward to the near future for the next book "Conversations with an Angel: The Captains" to come out along with other writings from Tim Benton.

Tim Benton's Works:

Conversations with an Angel: The Watchers
www.conversations-with-an-angel.com
War
The drums are pounding, let's get dressed up for battle,
Let's draw up our lines, and make the sabers rattle.
Bring out the young men, in their prime of life,
Take away their dreams, in a moment of strife.

Let the strong overcome the weak, with the havoc of war,
Watch the birds of prey, as over the battlefield they soar.
We will justify all, to make our conflict seem just,
Because to win, we shall do all that we must.