Tina J. Dang
Tina J. Dang
(March 16th / San Jose, Cali)
Biography of Tina J. Dang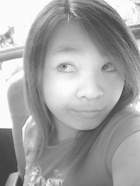 basically. i write poems when i stress. about something. and i love life. and i love my poems. and i think i`m pretty good if i say so myself =P. i`m 5'4 and i`m young. i`m vietnamse//chinese. if u want to check out more about me go to my myspace: www.myspace.com/teenuhweenuh14.

Tina J. Dang's Works:

my poetry is history in the making. ((no books yet)) . but i`m in a book from the international poetry.. thing.
Paranoia
paranoia, my dearest friend
screaming out your bitter end.
of sweet succession soon to bend.
what these sad lives have tried to mend.
paranoia, leave me be!
i wish for light, so i can see.
over my shoulder, look past me.
will you never let the paranoid flee?
paranoia, hiding the light