Tirupathi Chandrupatla
Biography of Tirupathi Chandrupatla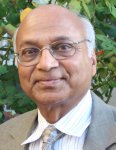 I thank my fellow poets for the many comments I received. The encouragement prompted me to increase the quantity and improve the quality of my poems over the past three years.

The collection of poems resulted in the following books now available from Amazon.com

Love and Life Entwined
Sowing the Seeds of Inspiration
Uncover the Power of Motivation
Harmonious Existence with Nature
Our Friends in the Woods
Heartwarming Interactions
Time to Reminisce Time to Rise
Garland for the Almighty (Devotional Poems)
Introspection (Manogatham) Telugu Poems
Ways of the World (Lokam Tiru) 2Q Poems

I express my deep gratitude and appreciation to PoemHunter.com for providing me the platform to let out my poetry.
New Poems
Mirror
A thin flat pane
Of unblemished glass
And a reflecting plane
Of sputtered aluminum…
Mirror …amazing mirror
A symbol of fashion
Image of civilization
Right turned left
Again reflect