Tom Wolfe
Biography of Tom Wolfe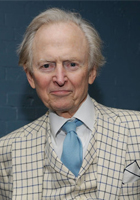 Thomas Kennerly "Tom" Wolfe, Jr. (born March 2, 1931) is an American author and journalist, best known for his association and influence over the New Journalism literary movement in which literary techniques are used in objective, even-handed journalism. Beginning his career as a reporter he soon became one of the most culturally significant figures of the sixties after the publication of books such as The Electric Kool-Aid Acid Test, a highly experimental account of Ken Kesey and the Merry Pranksters, and his collections of articles and essays, Radical Chic & Mau-Mauing the Flak Catchers and The Kandy-Kolored Tangerine-Flake Streamline Baby. His first novel, The Bonfire of the Vanities, released in 1987 was met with critical acclaim and was a great commercial success.

He is also known, in recent years, for his spats and public disputes with other writers, including John Updike, Norman Mailer, Gore Vidal and John Irving.
Fountain
On the Square,
The slackened fountain
Dripped a fat spire of freezing water
Into its thickening rim of ice.
In summer, a tall spire
Blown in blue sheets of spray.
When they turned it down,
It wilted—
That was like a fountain, too.