Tribhuvandas Luhar
Tribhuvandas Luhar
[Sundaram] (22 March 1908 – 13 January 1991 / Miyamatar, Bharuch, Gujarat / India)
Biography of Tribhuvandas Luhar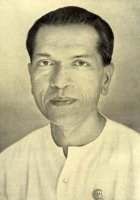 Tribhuvandas Luhar popularly known as Sundaram (Devnagri:सुन्दरम,Gujarati:સુન્દરમ), was an Indian, Gujarati poet.

He was born on 22 March 1908 at Miyamatar, Bharuch, Gujarat, India and died on 13 January 1991

In 1968 he received Sahitya Akademi Award - Avalokana (Critics in Gujarati language). and in 1985 received Padma Bhushan Award.
This page is based on the copyrighted Wikipedia Tribhuvandas Luhar; it is used under the Creative Commons Attribution-ShareAlike 3.0 Unported License. You may redistribute it, verbatim or modified, providing that you comply with the terms of the CC-BY-SA.