Ulloor S. Parameswara Iyer
Biography of Ulloor S. Parameswara Iyer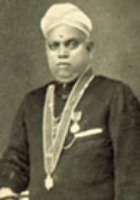 Ulloor S. Parameswara Iyer, commonly known as Ulloor, was a famous Malayalam poet and a noted historian. He was one of the famous triumvirate poets of Kerala, South India in the first half of the 20th century.

He attempted to revive the classical heritage of Malayalam poetry. He was born at the Thamarassery Illam at Perunna, Changanassery. Romanticism flourished with the appearance of the great trio Kumaran Asan, Ulloor and Vallathol Narayana Menon. He started his work as a civil servant and finally became the Chief Secretary to the Travancore Government.

His early works show the influence of Sanskrit words and usages. In Premasangeetham he glorified the concept of love. One of his poems, Premasangeetham (literally 'song of love'), compiled the history of Malayalam literature for the first time. He says that love is the only religion in the world, and describes the rhythmic harmony between man and nature. The poem concludes in a highly philosophical note: "You, me and the Paramathma (the Almighty) are one and the same".

Ulloor published Umakeralam, a Mahakavyam, in 1914. His best known works include Pingala, Karnabhooshanam, Bhakthideepika and Chithrassala. His long poem Umaakeralam (1914) has as its theme a particular phase in Kerala's history. The poem deals with the politics related to the monarchical power of Travancore in the 17th century. Ulloor was also an erudite scholar and a historian which can be seen from the work Kerala Saahitya Charitham (History of the Literature of Kerala), which consists of five volumes. Among his shorter narrative poems, Pingala and Karnabhooshanam are important. He contributed much to the Malayalam language as well as to the Malayalam literature both in prose and poetry.