Vandenver Vizcarra
Vandenver Vizcarra
(February 19,1991 / Vigan City, Philippines)
Biography of Vandenver Vizcarra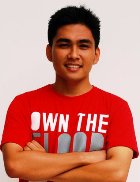 Van Denver Vizcarra is a peculiar lad with a mind full of dreams and a stomach full of everything else you can find on the fridge. He is currently under serious repair and he is freakin' anxious of when the repair will be done.
Still
Still, when I wake up in a cold morning's dew
I drown myself of memories made by me and you
While we stroll down an ordinary place for some
for me that was the most special rendezvous

My eyes are still fixed in your delightful face
staring for hours, I couldn't be more amazed
Still, I am alone and broken inside
even if I show my strength and delight.