Vaughn Wood
Biography of Vaughn Wood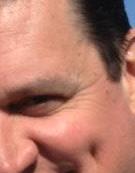 "Who am I, you ask? "

I am a narrative in the making,
A happy ending not yet told;
A plot unapologetically thickening,
An unedited pagination in bold.

I am a breath worth breathing,
Escaping death with each blow;
Avoiding over speculating
When the last one will flow.

I am faith in motion,
Unconventional devotion.
More enlightened via the personal
Than stage-like public spectacle.

I am desire, craving daily to be known,
Not forced into isolation to venture alone;
But absorbing each new sunrise and sunset
Providing the gift of another day for riveting embrace.

I am a friend worth having;
A reliable man worth confiding.
Gratefully ineligible to adjudicate,
In the now, fearlessly merciful.

I am honesty's new best friend,
A quest for truth continually probing;
A current of transparency untainted,
Longing for a nonjudgmental landing.
The Unwelcomed Guest
Your stench is that of an unwelcomed guest
Unseen nightly, yet clandestinely
Hiding underneath my bed.

You find joy in my discomfort
And incessant agitated state.
I'm onto your persistent hunger to devour
My peace, my space