Veijo Meri
Biography of Veijo Meri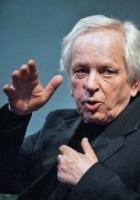 Veijo Meri (born 31 December 1928) is a Finnish writer. Much of his work focuses on war and its absurdity. The work is anti-war and has dark humor.

Born in Viipuri (today Vyborg, Russia), Meri graduated from secondary school in Hämeenlinna, then studied history and became an independent writer.

His diverse body of work includes novels, short stories, poetry, and essays.
Rhythm
Pitch and quality struggle in our words
and rock them back and forth constantly.
I flop flat on my stomach on top of them
so they won't rise up
like any glued corners that have come loose.
One continual rocking
this language just like this life.
When you lie on top of it, it starts
to throb like a cushioned woman's heart.