Velimir Khlebnikov
Biography of Velimir Khlebnikov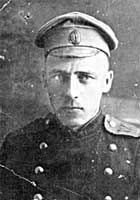 Originally named Viktor Vladimirovich Khlebnikov, born on Oct. 28, 1885, in the Kalmyk Autonomous Republic in Russia. Khlebnikov grew up to be well-educated in the disciplines of science, nature, folklore, mythology, mathematics, literature, art, history, and languages.

A poet who became known as the founder of Russian Futurism and whose esoteric verses exerted a significant influence on Soviet poetry after his death. Khlebnikov is becoming recognized as one of the major Russian poets of the twentieth century, having for years been dismissed as a purveyor of unintelligible verbal trickery.

Velimir Khlebnikov died June 28, 1922.
This page is based on the copyrighted Wikipedia Velimir Khlebnikov; it is used under the Creative Commons Attribution-ShareAlike 3.0 Unported License. You may redistribute it, verbatim or modified, providing that you comply with the terms of the CC-BY-SA.
Invocation Of Laughter
O, laugh, laughers!
O, laugh out, laughers!
You who laugh with laughs, you who laugh it up laughishly
O, laugh out laugheringly
O, belaughable laughterhood - the laughter of laughering laughers!
O, unlaugh it outlaughingly, belaughering laughists!
Laughily, laughily,
Uplaugh, enlaugh, laughlings, laughlings
Laughlets, laughlets.