Veronika Bitkina
Veronika Bitkina
[Wolf Eyes Girl]
Biography of Veronika Bitkina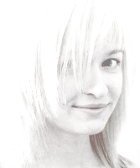 * Wolf eyes girl writes about many things, imaginary and real: books she read, movies she watched, her life, dreams she caught etc: all that gives her high level of emotions, not caring about its polarity.

* Wolf eyes girl - is a nickname given by a friend.

* Wolf eyes girl apologizes for all mistakes of any kind she made in her poems.
She is not native English speaker, so even though she is constantly improving her level of English, it doesn't help with the intuitive mistake correction.

* Wolf eyes girl would appreciate any constructive criticism.

* Wolf eyes girl wishes you a pleasant reading.

Veronika Bitkina's Works:

One day, maybe.
New Poems
I Fell In Love
His name is Jake. I fell in love.
I met him on a train.
His golden eyes - beyond above,
His hair like flour from grain.
He is so spoiled, and young insane,
His girlfriend hot like stove..
I went away. He had to stay
A dog, who looks like wolf.