Victoria Annette Bailey
Victoria Annette Bailey
(London / 1991)
Biography of Victoria Annette Bailey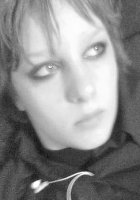 Victoria Annette Bailey was born in 1991, in London, England. The eldest child of Lacey and Patrick Bailey, she began to express an interest in literature and poetry as soon as she acquired the ability to read. She expresses a great interest in the darker side to literature, acknowledging favouritism in the works of Edgar Allan Poe, and attempts to draw the more sinister faces of life into her work.
She is very keen on the lyrical works of Counting Crows lyricist, Adam Duritz, and the poetical productions of Dorothy Parker. With a great interest in philosophy and psychology, Victoria aims to show the plane of the world that is not always so candy-coated.
In her spare time she attends a Creative Writing Group and enjoys attending poetry readings and concerts. She has a passion for Art and Literature and aspires to be a Forensic Psychologist and Poet.
She likes coffee, the colour grey and travelling.
She currently studies in English and Art at college in London, and hopes to continue into learning subjects, such as Psychology, Philosophy & Ethics and Law.
If you would like to get in touch with Victoria, do not hesitate to send a message. All messages will be transferred to her.
The Vitruvian Man
The Vitruvian Man
In the centre of the room
With champagne in one hand
In the other; The Moon.
The Raven at the window
With the enigmatic grin
Yelling for proportion
Get a refund on its sin.
The Devil's in the tree house