Viivi Luik
Biography of Viivi Luik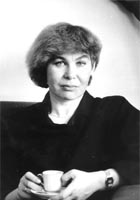 Viivi Luik, born in 1946, is one of the most treasured writers of contemporary Estonian literature. Her poetry captivates audiences with its musicality often characterized by perceiving the world and reflecting feelings through nature, its mystic beauty, clarity and all-embracing fragility in words. In her poetry the journey from the nature of the countryside to the city has been evident; the contrasts seem to be especially sharp in her excellent poetry for children.
Wing Shadow
Say it: "Verdant fir, you dark celestial angel."
Say it poignantly. Unmockingly. With grace.
Words infuse the air with white enchanted circles.
Don't observe the manner of your voice or face.

Stars that never tarnish, pious Christmas light
lay their curses on a land already damned.
All too clear the end, the start not yet in sight.
Nations scattered at the slightest gust of wind.