Virna Sheard
Biography of Virna Sheard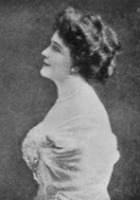 Virna Sheard (1865-1943) is a Canadian poet and novelist.

Life

She was born Virna Stanton in Coburg, Ontario, and was educated in Coburg and Toronto. She married Dr. Charles Sheard of Toronto in 1885, and bore him four sons.

She began publishing stories and poems in 1898, and publishing several novels and a collection of poetry.

Writing

The Globe (Toronto): "A study of The Miracle and Other Poems shows at once that the author is not merely a Canadian poet; her outlook and her range know little of time or place; she belongs to the readers of poetry at large.... Though Mrs. Sheard's poems are by no means of uniform quality, there are enough of the best to ensure her a high place in Canadian poetry. Her tender sympathy with small or helpless things, her interpretation of the music of nature, her spiritual quality and her rendering of reverent Biblical subjects reflect the mind of an idealist, and are the inspired lines of one deeply moved. Often there is a touch of sadness or of the whimsical, but never a suggestion of triviality or flippancy. There is little of incident or action: most of the poems are pure lyrics. In many cases there is a strong appeal to the aesthetic."

Virna Sheard's Works:

Novels/b>

Trevelyan's Little Daughters. Toronto: William Briggs, 1898. Montreal: C.W. Coates, 1898.
A Maid of Many Moods. Toronto: Copp Clark, 1902. New York: J. Pott, 1902.
By the Queen's Grace. Toronto: William Briggs, 1904.
The Man at Lone Lake. London, UK: Cassell, 1912.
Carry On!. Toronto: Warwick & Rutter, 1917.

Poetry

The Miracle and Other Poems. Toronto: J.M. Dent, 1913.
This page is based on the copyrighted Wikipedia Virna Sheard; it is used under the Creative Commons Attribution-ShareAlike 3.0 Unported License. You may redistribute it, verbatim or modified, providing that you comply with the terms of the CC-BY-SA.
A Song Of Love
Love reckons not by time--its May days of delight
Are swifter than the falling stars that pass beyond our sight.

Love reckons not by time--its moments of despair
Are years that march like prisoners, who drag the chains they wear.

Love counts not by the sun--it hath no night or day--
'Tis only light when love is near--'tis dark with love away.