Vivian Nguyen
Vivian Nguyen
[Vi] (03/26/95)
Biography of Vivian Nguyen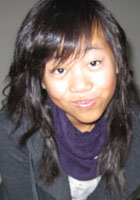 English was my favorite subject all through middle and high school. I became inspired to write poetry because my English teachers had given me while, the best grades, also the best regards on my writing. While writing stories, I then looked up to writing poetry because of words rhyming. I also loved having inspiration by my own life! I have an illness, encephalitis, which gives me a hard time to remember while what to write, also even words here and there! My thoughts roll off of my mind in just a split second! I do try, of course, with my love of this subject.
A Pencil In Hand
There's a pencil in hand,
With thoughts have gone by,
My paper is bare,
But I know I must try.

There's a pencil in hand,
My mind is just blank,
So might I have thoughts?
My dead head, what a prank!