Vladislav Khodasevich
Biography of Vladislav Khodasevich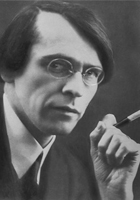 Vladislav Felitsianovich Khodasevich (Russian: Владисла́в Фелициа́нович Ходасе́вич; May 16, 1886 – June 14, 1939) was an influential Russian poet and literary critic who presided over the Berlin circle of Russian emigre litterateurs.
Khodasevich was born in Moscow into a family of Felitsian Khodasevich (Polish: Felicjan Chodasiewicz), a Polish nobleman, and Sofiia Iakovlevna (née Brafman), a Jewish woman who converted to Christianity. His cousin Nadia Khodasevich married Fernand Léger. He left the Moscow University after understanding that poetry was his true vocation. Khodasevich's first collections of poems, Youth (1907) and A Happy Little House (1914), were subsequently discarded by him as immature.
Automobile
We make our way in somber silence.
The empty dark, the row night.
And suddenly - with singing summons -
Automobile arrives in sight.

While shone with facets of his glasses
And a black varnish of side screens,
'He' stretches in the nightly darkness,
Like Angel, two 'His' whiting wings.