Vona Groarke
Biography of Vona Groarke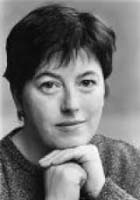 Vona Groarke is an Irish poet. Groarke was born in Mostrim in the Irish midlands in 1964, and attended Trinity College, Dublin, and University College, Cork.
She has published five collections of poetry with the Gallery Press (and by Wake Forest University Press in the United States): Shale (1994), Other People's Houses (1999), Flight (2002), Juniper Street (2006) and Spindrift (2009). She is also the author of a translation of the eighteenth-century Irish poem, Lament for Art O'Leary (Caoineadh Airt Uí Laoghaire) (Gallery Books, 2008).
Her work has been recognized with awards including the Brendan Behan Memorial Award, the Hennessy Award, the Michael Hartnett Award, the Forward Prize, and the Strokestown International Poetry Award. Her 2009 volume Spindrift has been nominated for the 2010 Irish Times Poetry Now Award.
She has been a co-holder of the Heimbold Chair of Irish Studies at Villanova University and has taught at Wake Forest University in North Carolina; she now teaches at the Centre for New Writing at the University of Manchester, and in 2010 was elected a member of Aosdána, the Irish academy of the arts.
The Slaughterhouse
Some gap in the sidings, a man too few
at the turn into the pens, and they were out,
scattering like buckshot through the cars.
Until a clutch of lads in bloodied aprons
bore down on them with shouts and whirring arms.
Within minutes, they were gathered,
it was done. The lads strayed back to work,
the steel doors closed on the skirl and din,
the driver tidied his gates, and pulled away.