Vonda Overlie
Vonda Overlie
(Havre)
Biography of Vonda Overlie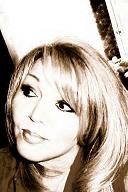 I am here to express all these repressed feelings I have been having. I am new to this. I don't know if this is poetry. I write from my heart and it feels good.
Growing Up!
If I could look into your past perhaps I'd understand.
You stayed guarded.

I wanted so badly for you to share your heart.
You allowed only glimpses of your pain.

I held you as if you were the child.
Comforting, encouraging, stroking your hair.