Vonda Overlie
Vonda Overlie
(Havre)
Biography of Vonda Overlie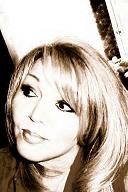 I am here to express all these repressed feelings I have been having. I am new to this. I don't know if this is poetry. I write from my heart and it feels good.
I'M Alone!
Where have you gone?
I miss your smile.
I miss your smell?

Will I ever see you again?
Have I made a mistake?

I felt I needed to breathe.
It's hard when I realized you are the air I breathe.