Walt Kelly
Biography of Walt Kelly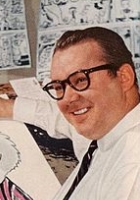 Walter Crawford Kelly, Jr. (August 25, 1913 – October 18, 1973), or Walt Kelly, was an American animator and cartoonist, best known for the comic strip, Pogo. He began his animation career in 1936 at Walt Disney Studios, contributing to Pinocchio and Fantasia. Kelly resigned in 1941 at the age of 28 to work at Dell Comics, where he created Pogo, which eventually became his platform for political and philosophical commentary.

Kelly was born of Irish-American heritage in Philadelphia, Pennsylvania, to Walter Crawford Kelly, Sr., and Genevieve Kelly (née MacAnnula). When he was two years old, the family moved to Bridgeport, Connecticut. After graduating from Warren Harding High School in 1930, Kelly worked at odd jobs until he was hired as a crime reporter on the Bridgeport Post. He also took up cartooning and illustrated a biography of fellow Bridgeport native P. T. Barnum. Kelly was extremely proud of his journalism pedigree and considered himself a newspaper man as well as a cartoonist.

Kelly became close friends with fellow cartoonists Milton Caniff and Al Capp, and the three occasionally referred to each other in their strips.
For Genevieve MacAnnulla
A song not for now
You need not put stay ..
A tune for the was
Can be sung for today …
The notes for the does-not
Will sound as the does ..
Today you can sing
For the will-be that was.