Wanda Coleman
Biography of Wanda Coleman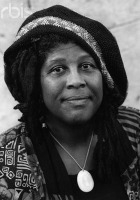 Wanda Coleman (birth name, Wanda Evans; November 13, 1946 – November 22, 2013) was an American poet. She was known as "the L.A. Blueswoman," and "the unofficial poet laureate of Los Angeles."

Coleman was born Wanda Evans, and grew up in the Watts neighborhood of Los Angeles during the 1960s. She received fellowships from the John Simon Guggenheim Foundation, The NEA, and the California Arts Council (in fiction and in poetry). She was the first C.O.L.A. literary fellow (Los Angeles Department of Cultural Affairs, 2003). Her numerous honors included an Emmy in Daytime Drama writing, The 1999 Lenore Marshall Prize (for "Bathwater Wine"), and a nomination for the 2001 National Book Awards (for "Mercurochrome"). She was a finalist for California poet laureate (2005).

While critically acclaimed for her creative writing, Coleman's greatest notoriety came as a result of an unfavorable review she wrote in the April 14, 2002 edition of The Los Angeles Times Book Review of Maya Angelou's book, A Song Flung Up to Heaven. Coleman found the book to be "small and inauthentic, without ideas wisdom or vision". There was a huge outpouring some positive and much negative, which resulted in Coleman's invitation to certain events being cancelled. Her account of this incident appeared as an essay in the August 29, 2002 edition of The Nation.
American Sonnet (35)
boooooooo. spooky ripplings of icy waves. this
umpteenth time she returns--this invisible woman
long on haunting short on ectoplasm

"you're a good man, sistuh," a lover sighed solongago.
"keep your oil slick and your motor running."

wretched stained mirrors within mirrors of
fractured webbings like nests of manic spiders