Wes Magee
Biography of Wes Magee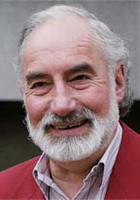 Wes Magee is a poet and children's author who was born in Greenock, Scotland in July, 1939. He has published 6 collections of poetry for adults, and more than 90 books for children including poetry, fiction, plays, picture books, and anthologies. He now lives in the hamlet of Thorgill, on the North Yorkshire Moors.
The Boneyard Rap
This is the rhythm
of the boneyard rap,
knuckle bones click
and hand bones clap,
finger bones flick
and thigh bones slap,
when you're doing the rhythm
of the boneyard rap.
Wooooooooooooooo!