Wes Thompson
Wes Thompson
(Columbus, Ohio)
Biography of Wes Thompson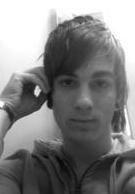 Words are all we have; they may not be free, but they are certainly cheap.
It's Not Worth It To You
A rare encounter with hollow footing
Or a contour life not worth refuting?
Will you come fully loaded-
Last wishes near breast?
Or come empty handed?
Fate shall not contest.
Will Death scrape up your knees,
Leave you all but alive?
Or will you scream in his face,
That you're ready to take the dive?