Wilfred Owen
Biography of Wilfred Owen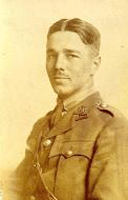 Wilfred Owen was born near Oswestry, Shropshire, where his father worked on the railway. He was educated at the Birkenhead Institute, Liverpool and Shrewsbury Technical College. He worked as a pupil-teacher in a poor country parish before a shortage of money forced him to drop his hopes of studying at the University of London and take up a teaching post in Bordeaux (1913). He was tutoring in the Pyrenees when war was declared and enlisted as shortly afterwards.

In 1917 he suffered severe concussion and 'trench-fever' whilst fighting on the Somme and spent a period recuperating at Craiglockart War Hospital, near Edinburgh. It was he that he met Siegfried Sassoon who read his poems, suggested how they might be improved, and offered him much encouragement.

He was posted back to France in 1918 where he won the MC before being killed on the Sombre Canal a week before the Armistice was signed.

His poetry owes its beauty to a deep ingrained sense of compassion coupled with grim realism. Owen is also acknowledged as a technically accomplished poet and master of metrical variety.

Poems such as 'Dulce Decorum Est' and 'Anthem for doomed Youth' have done much to influence our attitudes towards war.
This page is based on the copyrighted Wikipedia Wilfred Owen; it is used under the Creative Commons Attribution-ShareAlike 3.0 Unported License. You may redistribute it, verbatim or modified, providing that you comply with the terms of the CC-BY-SA.
Hospital Barge
Budging the sluggard ripples of the Somme,
A barge round old Cérisy slowly slewed.
Softly her engines down the current screwed,
And chuckled softly with contented hum,
Till fairy tinklings struck their croonings dumb.
The waters rumpling at the stern subdued;
The lock-gate took her bulging amplitude;
Gently from out the gurgling lock she swum.