Wilhelm Busch
Biography of Wilhelm Busch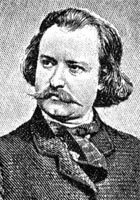 Wilhelm Busch, painter, early cartoonist, and most beloved of all German poets, was born April 15, 1832, in the village of Wiedensahl near Hannover in Lower Saxony, Germany. His greatest ambition was to emulate the Dutch and Flemish masters - Rubens, Hals, Brouwer, Ostade. Instead, he "stumbled into immortality", as the first German Federal President, Theodor Heuss, once put it, through a few caricatures he was asked to do for the satirical magazine "Fliegende Blaetter" that was founded in Munich in 1848. He soon started to add his own humorous verses, and his cartoons became longer and more elaborate; he can be regarded as the father of the modern comic strip, and wherever an Englishman would quote Lewis Carroll's "Alice", a German is likely to quote Busch. Although famous in his later years, he lived quite withdrawn and despised the fuss he thought was made about him. The "Hermit of Wiedensahl" died a confirmed bachelor on January 9, 1908, but his slapstick humour and his unforgettable characters live on forever.
This page is based on the copyrighted Wikipedia Wilhelm Busch; it is used under the Creative Commons Attribution-ShareAlike 3.0 Unported License. You may redistribute it, verbatim or modified, providing that you comply with the terms of the CC-BY-SA.
Impending Doom
Es machen sich die Fliegen
Ein luftig Tanzvergnügen.
Der Frosch, der denkt: Nur munter!
Ihr kommt schon noch herunter!

Up high, the flies are playing,
And frolicking, and swaying.
The frog thinks: Dance! I know
You'll end up here below.