William Blake Beckett
William Blake Beckett
(May 15,1995 / Denver, Colorado, United States of America)
Biography of William Blake Beckett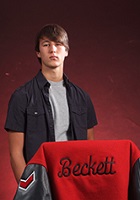 (Firstly, if you ever have any questions regarding the meaning of a particular part of a poem or the poem as a whole, feel free to contact me.)

I am an eighteen-year-old American college student currently in Oxford, Mississippi.

I am six feet tall and 185 pounds, give or take five or so.

I enjoy watching anime, reading, writing poetry, playing football (obviously) , eating, hanging around friends, playing video games, designing graphics (like my account's avatar) , and more of your average guy stuff (well, eating is normal, anyway) .

I am shy in real life, but under the masks of a pen name and the internet, I tend to open up. Otherwise I must get to know you first.

Currently a student in the Sally McDonnel-Barksdale Honors College at the University of Mississippi (Ole Miss) .

I have a sometimes over-zealous sense of justice and pride, but can both make and take jokes.

Reading one's poetry is a good way to get to know a person, but I will also chat if you wish. Just don't hold your breath on catching me online often, since my jobs keep me busy outside of school.
Man In The Sand
Man in the sand
wearing a cloak
rags and scrap cloth
seethed as he choked
on tears of anguish
on the thick, dark smoke
coming from home
to me, wind spoke