William Brighty Rands
Biography of William Brighty Rands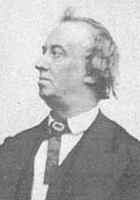 Born in 1823, William Brighty Rands published several volumes of children's literature anonymously and contributed to various periodicals under various pseudonyms, especially Matthew Browne, Henry Holbeach, and T. Talker. He worked as a reporter in the House of Commons and died in 1882. His major publications were:


[Browne, Matthew] Chaucer's England (London: Hurst and Blackett, 1869).
Lilliput Levee (1864)
Lilliput Lectures (London: Strahan, 1871). PR 5209 R2 L5 York University Library
Lilliput Revels (New York: G. Routledge, 1871). Microopaque. New York : Readex Microprint, 1970. Center of Research Libraries Database.
Lilliput Legends (1872)
W. B. Rand, Lilliput Lyrics, ed. R. Brimley Johnson (London: John Lane, the Bodley Head, 1899). del F Fisher Rare Book Library
This page is based on the copyrighted Wikipedia William Brighty Rands; it is used under the Creative Commons Attribution-ShareAlike 3.0 Unported License. You may redistribute it, verbatim or modified, providing that you comply with the terms of the CC-BY-SA.
Little Ditties I
Winifred Waters sat and sighed
Under a weeping willow;
When she went to bed she cried,
Wetting all the pillow;

Kept on crying night and day,
Till her friends lost patience;
"What shall we do to stop her, pray?"
So said her relations.