Biography of William Dean Howells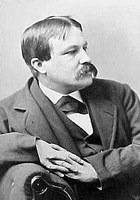 Born in Martins Ferry, Ohio, originally Martinsville, to William Cooper and Mary Dean Howells, Howells was the second of eight children. His father was a newspaper editor and printer, and moved frequently around Ohio. Howells began to help his father with typesetting and printing work at an early age. During 1852, his father arranged to have one of Howells' poems published in the Ohio State Journal without telling him.

During 1856, Howells was elected as a Clerk in the State House of Representatives. During 1858, he began to work at the Ohio State Journal where he wrote poetry, short stories, and also translated pieces from French, Spanish, and German. He avidly studied German and other languages and was greatly interested in Heinrich Heine. During 1860, he visited Boston and met with American writers James Thomas Fields, James Russell Lowell, Oliver Wendell Holmes, Nathaniel Hawthorne, Henry David Thoreau, and Ralph Waldo Emerson.

Said to be rewarded for a biography of Abraham Lincoln used during the election of 1860, he gained a consulship in Venice. On Christmas Eve 1862, he married Elinor Mead at the American embassy in Paris. Among their children was the future architect John Mead Howells. Upon returning to the U.S., Howells wrote for various magazines, including Atlantic Monthly and Harper's Magazine. From 1866, he became an assistant editor for the Atlantic Monthly and was made editor in 1871, remaining in the position until 1881. During 1869, he first met Mark Twain, which began a longtime friendship. Even more important for the development of his literary style — his advocacy of Realism — was his relationship with the journalist Jonathan Baxter Harrison, who during the 1870s wrote a series of articles for the Atlantic Monthly on the lives of ordinary Americans (Fryckstedt 1958). He gave a series of 12 lectures on "Italian Poets of Our Century" for the Lowell Institute for their 1870-71 season.[1]

He wrote his first novel, Their Wedding Journey, in 1872, but his literary reputation took off with the realist novel A Modern Instance, published in 1882, which described the decay of a marriage. His 1885 novel The Rise of Silas Lapham is perhaps his best known, describing the rise and fall of an American entrepreneur of the paint business. His social views were also strongly represented in the novels Annie Kilburn (1888) and A Hazard of New Fortunes (1890). He was particularly outraged by the trials resulting from the Haymarket Riot.

His poems were collected during 1873 and 1886, and a volume under the title Stops of Various Quills were published during 1895. He was the initiator of the school of American realists who derived through the Russians from Balzac and had little sympathy with any other type of fiction, although he encouraged new writers in whom he discovered new ideas.

During 1904, he was one of the first seven people chosen for membership in the American Academy of Arts and Letters, of which he became president.



Grave of William Dean HowellsHowells died May 11, 1920. He was buried in Cambridge Cemetery in Massachusetts.

During 1928, eight years after Howells' death, his daughter published his correspondence as a biography of his literary years.
William Dean Howells Poems
Earliest Spring
TOSSING his mane of snows in wildest eddies and tangles,
Lion-like March cometh in, hoarse, with tempestuous breath,
Through all the moaning chimneys, and 'thwart all the hollows and
angles
Round the shuddering house, threating of winter and death.

But in my heart I feel the life of the wood and the meadow
Thrilling the pulses that own kindred with fibres that lift
Bud and blade to the sunward, within the ins