William Ellery Leonard
Biography of William Ellery Leonard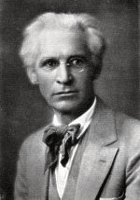 William Ellery Leonard (January 25, 1876, in Plainfield, New Jersey – May 22, 1944, in Madison, Wisconsin) was an American poet and literary scholar.

From 1906 until the end of his life, Leonard taught at the University of Wisconsin–Madison, being an assistant professor of English. Among his prominent students were literary critic Leslie Fiedler and poet Clara Leiser, the latter an outspoken opponent of Nazism.

Over his career Leonard wrote numerous volumes of poetry, the first of which was Sonnets and Poems, a collection regarded as showing emotional intensity as well as psychological depth. He is most remembered, however, for Two Lives, a cycle of 250 sonnets telling the story of his tragic marriage. Stephen Vincent Benét called it the best American poem of the twentieth century. In his psychological autobiography, The Locomotive-God, he probed his agoraphobia. Leonard is also known for his many scholarly works, particularly translations of Aesop and Lucretius as well as the epic Beowulf.
May-Night
Blue are the twilight heavens above the hill,
A yellow half-moon's high within the blue,
And rosy May-night clouds are soft and still,
And all the world beside is shut from view.
The plum-trees, whitening buds and greening shoots,
Close in the dusky cottage; and beyond
The wood-thrush in the hazel-thicket flutes,
And frogs are croaking in the unseen pond.