Biography of William Morris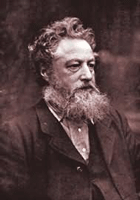 William Morris was born in Essex and educated at Exeter College, Oxford. He was the founding editor of the Oxford and Cambridge Magazine (1856) in which many of his early poems appear. He was a practising painter (1857-62) and public lecturer on art, architecture and socialism (1877-96). He founded the Kelmscott Press, Hammersmith, in 1890 and was a founding member the same year of the Hammersmith Socialist Society. He helped found the Society for the Protection of Ancient Buildings (1877) which he served as secretary. His designs in things like furniture and fabrics contributed to the Arts and Crafts Movement and changed Victorian taste. He was president of the Birmingham Society of Arts and master of the Art Workers Guild. He found time to produce literary works and early influences on him included the Pre-Raphaelites, Ruskin, Carlyle and Rosetti. He declined a position as a
poetry professor at Oxford. A social and moral critic, he gave his first public lecture in 1887 and formed the Socialist league. He died, worn out by his various activities, and was buried at Kelmscott.
This page is based on the copyrighted Wikipedia William Morris; it is used under the Creative Commons Attribution-ShareAlike 3.0 Unported License. You may redistribute it, verbatim or modified, providing that you comply with the terms of the CC-BY-SA.
In Prison
Wearily, drearily,
Half the day long,
Flap the great banners
High over the stone;
Strangely and eerily
Sounds the wind's song,
Bending the banner-poles.

While, all alone,