William Thomas Goodge
Biography of William Thomas Goodge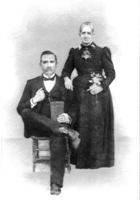 William Thomas Goodge was born in London in 1862, the son of a Law Courts clerk. and arrived in Sydney in 1882 after working his passage aboard the ship 'The Cathay' as a steward. His first job on his arrival in Sydney was with one of Cobb & Co's properties - Windagee Station in Western New South Wales.

He roamed around outback New South Wales for twelve years before settling into life as a jounalist.He began to contribute verses to the Dubbo Express and later was offered a full-time job as a reporter and writer of verse for the Lithgow Mercury. For a time he was Editor of the Orange Leader while contributing to the now famous Bulletin. For the nine years prior to his death he wrote a weekly piece for the Sydney Truth concerning the actions of an imaginery drinking group, the Gimcrack Club. During his lifetime he published only one collection of poems: Hits! Skits! and Jingles! in 1899. Norman Lindsay considered him one of Australia's best writers of light verse.

A prolific and highly respected writer, W.T. Goodge died suddenly in Sydney in 1909 aged forty seven.
This page is based on the copyrighted Wikipedia William Thomas Goodge; it is used under the Creative Commons Attribution-ShareAlike 3.0 Unported License. You may redistribute it, verbatim or modified, providing that you comply with the terms of the CC-BY-SA.
Ough''A Phonetic Fantasy
The baker-man was kneading dough
And whistling softly, sweet and lough.

Yet ever and anon he'd cough
As though his head were coming ough!

"My word!" said he," but this is rough:
This flour is simply awful stough!"