William Wilfred Campbell
Biography of William Wilfred Campbell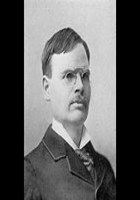 William Wilfred Campbell was born 15 June 1860 in Newmarket, Upper Canada (present-day Ontario). There is some doubt as to the date and place of his birth. His father, Rev. Thomas Swainston Campbell, was an Anglican clergyman who had been assigned the task of setting up several frontier parishes in "Canada West", as Ontario was then called. Consequently, the family moved frequently.
In 1871, the Campbells settled in Wiarton, Ontario, where Wilfred grew up, attending high school in nearby Owen Sound. The school later be renamed Owen Sound Collegiate and Vocational Institute). Campbell would look back on his childhood with fondness.

Campbell taught in Wiarton before enrolling in the University of Toronto's University College in 1880, Wycliffe College in 1882, and at the Episcopal Theological School in Cambridge, Massachusetts, in 1883.

In 1884, Campbell married Mary DeBelle (née Dibble). They had four children, Margery, Faith, Basil, and Dorothy. In 1885, Campbell was ordained to the Episcopal priesthood, and was soon appointed to a New England parish. In 1888, he returned to Canada and became rector of St. Stephen, New Brunswick. In 1891, after suffering a crisis of faith, Campbell resigned from the ministry and took a civil service position in Ottawa. He received a permanent position in the Department of Militia and Defence two years later.

Living in Ottawa, Campbell became acquainted with Archibald Lampman—his next door neighbor at one time—and through him with Duncan Campbell Scott. In February 1892, Campbell, Lampman, and Scott began writing a column of literary essays and criticism called "At the Mermaid Inn" for the Toronto Globe. As Lampman wrote to a friend:"Campbell is deplorably poor.... Partly in order to help his pockets a little Mr. Scott and I decided to see if we could get the Toronto Globe to give us space for a couple of columns of paragraphs & short articles, at whatever pay we could get for them. They agreed to it; and Campbell, Scott and I have been carrying on the thing for several weeks now."

The column ran only until July 1893. Lampman and Scott found it difficult to "keep a rein on Campbell's frank expression of his heterodox opinions." Readers of the Toronto Globe reacted negatively when Campbell presented the history of the cross as a mythic symbol. His apology for "overestimating their intellectual capacities" did little to resolve the controversy.

In the 20th century, Campbell became a strong advocate of British imperialism, for example telling Toronto's Empire Club in 1904 that Canada's only choice lay "between two different imperialisms, that of Britain and that of the Imperial Commonwealth to the south." It was the principles of Imperialist that guided his work in Poems of loyalty by British and Canadian authors (London, 1913) and for The Oxford book of Canadian Verse (Toronto, 1913).

As editor of The Oxford book of Canadian Verse, Campbell devoted more pages to his own poetry than that to anyone else. But by choosing mostly from his longer work—including an excerpt from Mordred (one of his verse dramas)—he did not choose his best work. In contrast, the poems he selected from his fellow Confederation Poets reflected some of their best work.

In 1909, Campbell was transferred to the Dominion Archives. In 1915, Campbell moved with his family to an old stone farmhouse on the outskirts of Ottawa, which he named "Kilmorie". He died of pneumonia on New Year's morning, 1918. He was buried in Ottawa's Beechwood Cemetery.

William Wilfred Campbell's Works:

Snowflakes and Sunbeams (poems; 1888)

Lake Lyrics and Other Poems (poems; 1889)

The Dread Voyage and Other Poems (poems; 1893 or 1898)

Mordred and Hildebrand (poetical drama; 1895)

Beyond the Hills of Dreams (poems; 1899)

The Poems of Wilfred Campbell (poems; 1905)

Ian of the Orcades, or the Armourer of Grinigoe (novel; 1906)

Canada (nonfiction; 1907)

Poetic Tragedies (poetical drama; 1908)

A Beautiful Rebel (novel; 1909)

The Beauty, History, Romance, and Mystery of the Canadian Lake Region (nonfiction; 1910) [enlarged and revised reprint in 1914]

Sagas of Vaster Britain (poems; 1914)

The Poetical Works of Wilfred Campbell (poems; 1923)

At the Mermaid Inn, Conducted by A. Lampman, W.W. Campbell, Duncan C. Scott (nonfiction; 1958)
This page is based on the copyrighted Wikipedia William Wilfred Campbell; it is used under the Creative Commons Attribution-ShareAlike 3.0 Unported License. You may redistribute it, verbatim or modified, providing that you comply with the terms of the CC-BY-SA.
Out Of Pompeii
1 She lay, face downward, on her beaded arm,
2 In this her new, sweet dream of human bliss,
3 Her heart within her fearful, fluttering, warm,
4 Her lips yet pained with love's first timorous kiss.
5 She did not note the darkening afternoon,
6 She did not mark the lowering of the sky
7 O'er that great city. Earth had given its boon
8 Unto her lips, love touched her and passed by.