willow moon pearce
willow moon pearce
(October 1951 / London, UK)
Biography of willow moon pearce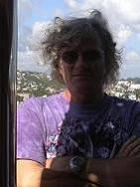 I worry about this world we are supposed to be looking after and mans inhumanity to each other - it gets worse with absence of tolerance with the ' dove and the hawk 'The space between the rich and the poor is getting wider and causing friction.Racism remains the same. We need to change. My poetry is I hope close to the point and makes a person think of his current situation. I want and need peace and have seen this world as it is now with sorrow - I do not like what I see.
India
No food,
No hope
The old man
Is past caring.
But the boy laughs
At his peeling skin.

He has no hope either
But being young
He thinks nothing is hopeless
When you are alive,
Even a swollen belly.