Witter Bynner
Biography of Witter Bynner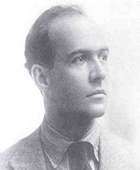 Harold Witter Bynner (August 10, 1881 – June 1, 1968) was an American poet, writer and scholar, known for his long residence in Santa Fe, New Mexico, at what is now the Inn of the Turquoise Bear.

Bynner settled in Santa Fe, in a steady and acknowledged 30-year homosexual relationship with Robert Hunt.[4] He became a friend of D. H. Lawrence, and traveled with him and Frieda von Richthofen in Mexico; he much later in 1951 wrote on Lawrence, while he and his partner Willard Johnson are portrayed in Lawrence's The Plumed Serpent. Bynner and Hunt had numerous parties at their house, hosting many notable writers, actors, and artists, which guests included Ansel Adams, Willa Cather, Igor Stravinsky, Edna St. Vincent Millay, Robert Frost, W. H. Auden, Aldous Huxley, Clara Bow, Errol Flynn, Rita Hayworth, Christopher Isherwood, Carl Van Vechten, Martha Graham, Georgia O'Keeffe and Thornton Wilder.

On January 18, 1965, Bynner had a severe stroke. He never recovered, and required constant care until he died on June 1, 1968. His papers are archived in the New Mexico State University Library.
The New Life
Perhaps they laughed at Dante in his youth,
Told him that truth
Had unappealably been said
In the great masterpieces of the dead: --
Perhaps he listened and but bowed his head
In acquiescent honour, while his heart
Held natal tidings, -- that a new life is the part
Of every man that's born,
A new life never lived before,