Wynand Johannes Louw
Wynand Johannes Louw
[@Chem0_oPoet] (1988/11/29 / Pretoria)
Biography of Wynand Johannes Louw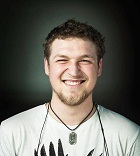 Currently a student at the University of Pretoria, MSc Chemistry. I started writing, well... I don't exactly recall when, but I think I wrote my first poem when I was 13 or so. Apart from poems, I also write short stories and I am busy working on a novel: No fear.
Light Never Gone
Where are you now?
After all you've done
and all we still needed to do,
you are Gone now,
and I wish it wasn't true.

I barely even knew you,
and now that I'll never get
that chance to…I really need it!