Wystan Hugh Auden
Biography of Wystan Hugh Auden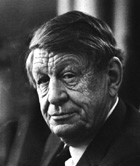 Born in York, England, in 1907, he moved to Birmingham with his family during his childhood and was educated at Christ's Church, Oxford. As a young man he was influenced by the poetry of Thomas Hardy and Robert Frost, as well as William Blake, Emily Dickinson, Gerard Manley Hopkins, and Old English verse. At Oxford his precocity as a poet was immediately apparent, and he formed lifelong friendships with two fellow writers, Stephen Spender and Christopher Isherwood.

In 1928, Auden published his first book of verse, and his collection Poems, published in 1930, which established him as the leading voice of a new generation. Ever since, he has been admired for his unsurpassed technical virtuosity and an ability to write poems in nearly every imaginable verse form; the incorporation in his work of popular culture, current events, and vernacular speech; and also for the vast range of his intellect, which drew easily from an extraordinary variety of literatures, art forms, social and political theories, and scientific and technical information. He had a remarkable wit, and often mimicked the writing styles of other poets such as Dickinson, W. B. Yeats, and Henry James. His poetry frequently recounts, literally or metaphorically, a journey or quest, and his travels provided rich material for his verse.

He visited Germany, Iceland, and China, served in the Spanish Civil war, and in 1939 moved to the United States, where he met his lover, Chester Kallman, and became an American citizen. His own beliefs changed radically between his youthful career in England, when he was an ardent advocate of socialism and Freudian psychoanalysis, and his later phase in America, when his central preoccupation became Christianity and the theology of modern Protestant theologians. A prolific writer, Auden was also a noted playwright, librettist, editor, and essayist. Generally considered the greatest English poet of the twentieth century, his work has exerted a major influence on succeeding generations of poets on both sides of the Atlantic.

W. H. Auden was a Chancellor of The Academy of American Poets from 1954 to 1973, and divided most of the second half of his life between residences in New York City and Austria. He died in Vienna in 1973.
This page is based on the copyrighted Wikipedia Wystan Hugh Auden; it is used under the Creative Commons Attribution-ShareAlike 3.0 Unported License. You may redistribute it, verbatim or modified, providing that you comply with the terms of the CC-BY-SA.
Wystan Hugh Auden Poems
Funeral Blues
Stop all the clocks, cut off the telephone, Prevent the dog from barking with a juicy bone, Silence the pianos and with muffled drum Bring out the coffin, let the mourners come.
Cocaine Lil And Morphine Sue
Did you ever hear about Cocaine Lil? She lived in Cocaine town on Cocaine hill, She had a cocaine dog and a cocaine cat, They fought all night with a cocaine rat.
A Walk After Dark
A cloudless night like this Can set the spirit soaring: After a tiring day The clockwork spectacle is
September 1, 1939
I sit in one of the dives On Fifty-second Street Uncertain and afraid As the clever hopes expire
As I Walked Out One Evening
As I walked out one evening, Walking down Bristol Street, The crowds upon the pavement Were fields of harvest wheat.
Are You There?
Each lover has some theory of his own About the difference between the ache Of being with his love, and being alone:
If I Could Tell You
Time will say nothing but I told you so, Time only knows the price we have to pay; If I could tell you I would let you know.
Stop All The Clocks, Cut Off The Telepho...
Stop all the clocks, cut off the telephone, Prevent the dog from barking with a juicy bone, Silence the pianos and with muffled drum Bring out the coffin, let the mourners come.
Epitaph On A Tyrant
Perfection, of a kind, was what he was after, And the poetry he invented was easy to understand; He knew human folly like the back of his hand, And was greatly interested in armies and fleets;
Musée Des Beaux Arts
About suffering they were never wrong, The Old Masters; how well, they understood Its human position; how it takes place While someone else is eating or opening a window or just walking dully along;
At Last The Secret Is Out
At last the secret is out, as it always must come in the end, the delicious story is ripe to tell to tell to the intimate friend;
Dear, Though The Night Is Gone
Dear, though the night is gone, Its dream still haunts today, That brought us to a room Cavernous, lofty as
O What Is That Sound
O what is that sound which so thrills the ear Down in the valley drumming, drumming? Only the scarlet soldiers, dear, The soldiers coming.
Another Time
For us like any other fugitive, Like the numberless flowers that cannot number And all the beasts that need not remember, It is today in which we live.
All poems of Wystan Hugh Auden »
Share your comments »
Canzone
When shall we learn, what should be clear as day,
We cannot choose what we are free to love?
Although the mouse we banished yesterday
Is an enraged rhinoceros today,
Our value is more threatened than we know:
Shabby objections to our present day
Go snooping round its outskirts; night and day
Faces, orations, battles, bait our will
As questionable forms and noises will;