Biography of Yehudah HaLevi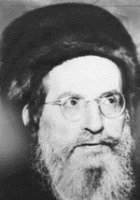 Yehudah ha-Levi is one of the best-known Spanish Jewish poets. Born in Toledo when it was still under Islamic rule, he became a prolific writer of both Arabic and Hebrew poetry. His writing touches on themes such as love, friendship, religious devotion, hope, wisdom, and sorrow.

Ha-Levi's most famous work is The Kuzari, comprised of 5 essays written between 1120 and 1140. The Kuzari tells how the king of the Khazars decided to adopt Judaism after consulting with apologists for the Christian, Islamic, and Judaic religions. According to Rabbi Eliyahu (the "Gaon") of Vilna, The Kuzari is "holy and pure, and the fundamentals of Israel's faith and the Torah are contained within." It has been translated into Hebrew, Ladino, English, French, German, and several other languages.
This page is based on the copyrighted Wikipedia Yehudah HaLevi; it is used under the Creative Commons Attribution-ShareAlike 3.0 Unported License. You may redistribute it, verbatim or modified, providing that you comply with the terms of the CC-BY-SA.
Sabbath, My Love
greet my love with wine and gladsome lay;
Welcome, thrice welcome, joyous Seventh Day!

Six slaves the weekdays are; I share
With them a round of toil and care,
Yet light the burdens seem, I bear
For your sweet sake, Sabbath, my love!

On the First-day to the accustomed task