Yussuf Muktar
Biography of Yussuf Muktar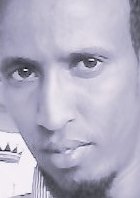 Yussuf Muktar joined Kenyatta University and pursued a Bachelors degree in Sociology and political Science. He is known for his tireless contribution towards peace advocacy.Yussuf has written more than fifty poems and plans soon to publish a novel entitled: Era of Errors.

Yussuf Muktar's Works:

Era of Errors.
Is My Life In Jeopardy?
I blindly celebrate in a gloomy mood
As my right hand is chopped ruthlessly off
By the very left hand that stood nearer
In spoiling the good they could scoop
Together as lovely twin brothers
conjoined in the same body of life

No concord, my legs declared
Helplessly as my eyes watched