Zinda Kaul
Zinda Kaul
[Masterji] (1884 – 1965 / Kashmir / India)
Biography of Zinda Kaul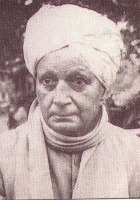 Pandit 'Zinda Kaul is a well-known Indian poet, writer & teacher. He composed in Persian, Hindi, Urdu & Kashmiri.

Personal Life

Zinda Kaul was also known as MasterJi by his students and friends. He came to be called 'Masterji' because he used to teach many Kashmiris, both in school as well as at his home. Zinda was born into a Kashmiri Pandit family, & his father Pandit Lakshman Pandit was indifferent to his formal education. Masterji had to face many difficulties in his life. He was a school teacher for a long time. After that, he worked as an ordinary clerk. In 1939, Kaul retired from the Publicity office of Kashmir as a translator. He died in Jammu in the winter of 1965.

Literary Work

Zinda Kaul was the first Kashmiri poet to win the Sahitya Academy award in 1956, for his book of poetry compilations Sumran. It was first published in Devanagari, and later the government had it printed in the Persio-Arabic script. The Sahitya Academy of India gave Pandit Zinda Koul an award of five thousand rupees for this book.

In the beginning 'Masterji' wrote in Persian, Hindi, and Urdu. Masterji started writing in Kashmiri in 1942. In his Kashmiri poetry, he has written primarily on devotion, philosophy & peace. Masterji's poetry has been published in all these four languages. However, he made his name by writing in Kashmiri.

His poetry was greatly influenced by Lal Ded and Parmanand. His writing style is mystical & is influenced by bhakta tradition.

Masterji composed poetry only for (his own) pleasure. Those who know say that Masterji's poems in Kashmiri were better than those in Hindi and Urdu. Masterji translated the poems of the famous Kashmiri poet Parmanand into English. These poems have been published in three volumes. Kashmiri poetry suffered a great loss upon Masterji's death.
Reply
Dear friend, pray do not lose hope and faith;
no wonder if someone comes to you with another love token.
He has no dearth of tokens; His treasures are full.
His tokens are lying ungathered in hills and woods,
or brightly blooming in flowerbeds, or scintillating among the stars.

You say:"How can we face him after all our slips and falls? "
Such lame excuses to turn back from devotion will not do.
For supposing we withdraw, can His love let us go?