Zora Bernice May Cross
Biography of Zora Bernice May Cross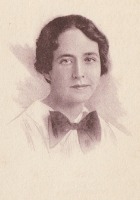 Zora Bernice May Cross was an Australian poet, novelist and journalist.

She was born in Brisbane, and was educated at Ipswich Girls' Grammar School and then Sydney Teachers' College. She taught for three years and then worked as a journalist, for the Boomerang and then as a freelance writer.

After the failure of her first marriage she eventually lived in a de facto marriage with David McKee Wright. Zora'a first book of poetry, A Song of Mother Love, was published in 1916. Songs of Love and life, a collection of love poetry thought at the time to be rather too frank, but which proved popular enough to appear is several editions, followed in 1917.

The 1920s saw the continuation of war poetry, both celebrating the exploits of the fighting men and lamenting the realities of war. Zora Cross's Elegy on an Australian schoolboy, a poem about her young brother who was killed in the war, is an example of the latter. She is best-known for her 1917 book, Songs of love.

She was known not only for her poems, including sonnet sequences, but for a private life scandalous by the standards of her time. She wrote about sex, childbirth and war, in terms also considered too explicit by contemporaries.

As Bernice May, she wrote a regular column in the 1930s for the Australian Women's Mirror. It comprised interviews with women writers.

Zora Cross died in the Blue Mountain region of New South Wales in 1964.

Zora Bernice May Cross's Works:

A Song of Mother Love (1916)
Songs of Love and Life (1917)
The Lilt of Life (1918)
The City of Riddle-Me-Ree (1918)
Elegy on an Australian Schoolboy (1921)
Memory (1940)
This page is based on the copyrighted Wikipedia Zora Bernice May Cross; it is used under the Creative Commons Attribution-ShareAlike 3.0 Unported License. You may redistribute it, verbatim or modified, providing that you comply with the terms of the CC-BY-SA.
Girl-Gladness
It's holiday time on the hollyhock hills,
And I wish you would come with me laddie-love, now,
The butterfly-bells, from the Folly-fool rills,
Will ring if you listen, and drop on your brow.
So, dear come along,
I've a kiss and a song,
And I know where the fairies are forging a gong
To ring up the elves to a festival fair
Of snippets of sunshine and apples of air.