Michael P. McParland
Michael P. McParland
(July 19 1983)
Wind Across The Barren Land - Poem by Michael P. McParland
Fierce and howling winds sweep across this barren land.
All dead and stationary things
are quickly buried in the sand.
The land is now in constant gloom,
the sun does not shine yet
you'll never see the bright bold moon.
It's just overcast and near to black,
but bright enough to see the death.

He stands alone in this wasteland of olden days.
A gunslinger here to fight on through,
dealing justice as he travels
somewhere far and somewhere wide,
Nobody knows where or why
just stay straight or else you'll die.
His nerves are steel his heart is cold,
Only filled with the justice,
needs, and goals he holds.

Wandering through a land so dark.
Yet still so hot this empty barren land does mock.
Calling, shouting, slapping you,
with the fierce wind that swoops and whips
with killing screams of tortured dreams.

This man lost all his home and love so long ago
He's been traveling now for ages gone by.
Who can guess?
He's never here but for food
and drink and a small fit of rest.
He only stays if justice needs dealt.
Then he quickly and quietly goes about his work.
Hanging up the meat of rotten stock.

He moves on to pastures far,
looking for what it is he tracks in valiant deed.
Never thinking of ending his quest.
To save the world?
You have a guess.

He wanders lonely thinking
only of the loses from his past.
What he could have done to change that hand.
In his misery he rides and rides
just dealing justice for in a way
it fills the void and gives him a purpose,
which he lost so long ago,
when he was robbed of
loving family, safety, and cherished home.

Through these dark waste lands here before us.
A nameless gunslinger rides forever deeply focused.
On he goes finally cleaning out the evil deeds,
by dealing justice full
to the men who set out to hurt, rob, and kill
the good people who work and strive
to live full lives of virtue
in honest dealings, truth, and righteous pride.

When he comes on through a new town
full of country folk.
They stand in awe and pure silence,
not a single word dare be spoke.
They've heard of him and can't quite believe,
the truth of the tales surrounding he.
They hurry to take care of all his needs.
For the horse goes feeding,
drinking, and a good thorough scrubbing.
The gunslinger himself is in
desperate need of food, drink, and a cleaning.

So now it's time to sit and eat drink some beers,
then head to bed he's eternally used up and quite beat.
The morning comes sheriff just what needs to be done?
Three men need to pay the toll of justice.
We'd much obliged if you helped
deal out this right before us.
A grunt and nod he heads out to center yard.
Where justice is felt and
no man put up there will live to tell.
Out their brought ropes put round their necks,
without a word he yanks the lever the trap door slips.
Another job of hanging up the rotten meat,
they're bad stock so not a tear weep.

He saddles up, his job here is now clean and done.
Ever onward in the dark wasteland he does move.
A legend of such epic proportions,
could not be true as so many have spoken,
without a pennies worth of brains or knowing.
He was real I know it's so.
Wandering around that barren
dark wasteland of days grown old.
Wind swept courage that knew nor
cared for one ounce of glory.

He stands today as a virtuous statue
of truth and justice we lack in these days,
so remember the good he carried out
to help the people filled with good
and kindness sharing throughout.

The lonely gunslinger with no known name.
He travels on beaten by the wind
in this hot barren lifeless land.
Trapped inside his mind with so many losses,
riding forth hoping to find all the
hope and pieces from which were taken from him.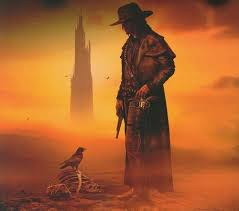 Topic(s) of this poem: fiction
Poet's Notes about The Poem
This is a pure work of fiction of course. It was really brought to mind and inspired by Stephen Kings Dark Tower series. His main protagonist Roland of Gilead is the model for my gunslinger here in. I was thinking far more in the feel and imagery of the first Dark Tower book The Gunslinger which feels very different from the rest of the series and holds more of a western feel and imagery. I don't know if this is really good or not. That truly is for you to decide here. I hope you enjoy it.
Read this poem in other languages
This poem has not been translated into any other language yet.
I would like to translate this poem »
Poem Submitted: Wednesday, December 24, 2014
Poem Edited: Tuesday, June 30, 2015
Michael P. McParland's Other Poems