Saturday, March 31, 2018
Another Young G Murder
as I take it a bit further I'm talking about another Young G murder
the streets are uneasy the zone is too low bust up the beat to promote the tempo
he grew up in the gutter his momma was a whore selling her junk from a trunk behind the liquor store...
Young G wandered the streets alone trying to find his home to roam
no one would help him they couldn't even help themselves
but Young G was out on a mission to soar to the highest heights
one night at 8th street station Young G was chillin but got in a confrontation
a thief wanted his gold necklace but Young G wouldn't part with it.
a gun was drawn and it wouldn't be long Young G was on the floor with a bullet hole in his head...

the killer made his way to Mexico a place he thought he should go
now it was over for Young G would suffer many polce arrived trying to revive Young G
but it was too late he was history at his funeral many came to hear his legacy
he was a street thug capper wanna be rapper but hehelped out the needy
on his mission he would be dishing out many of his C.D.'s you can listen at ease
Young G will be remembered as a heroic citizen trying so hard to fit in
See ya up in heaven Youg G making sweet history.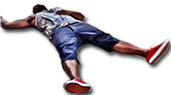 John Ackerman
Topic(s) of this poem: rap