Endless...the repetition
of servitude, its oppressive
routine crushing, suffocating,
demoralizing—eroding
away hopes and dreams,
consummate user of a life
torn down, a life once lived.
The pursuit of happiness
becomes elusive, vague, and
the joy once known is left far
behind—its remnants teasing
in fading, flashing visions of
what was, serving only to
nourish the seeds of regret.

Energy becomes depleted;
love once vibrant, wanes and
lingers in near-dormant state
overtaken by a pervasive
cauldron of depression now
manifest in silent, growing,
and all-consuming act of will.

Needs of self sacrificed, the
spirit consumed to a fading
ember is poised for extinction.
Bound by doctrine or bound by
beliefs instilled, escape is found
only in lasting, cheerless and
thankless freedom of death.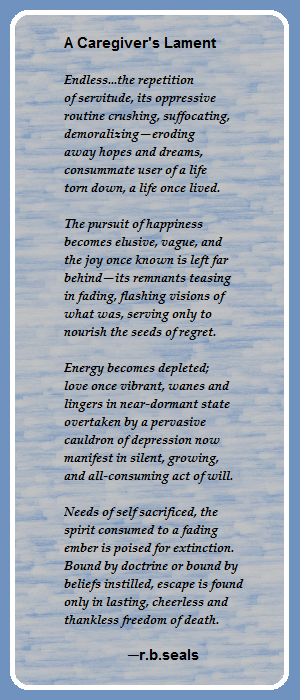 Tuesday, June 30, 2015
Topic(s) of this poem: hopelessness,love and pain,peace,sacrifice,suicide
POET'S NOTES ABOUT THE POEM
The poem, "A Caregiver's Lament, " explores and reveals the darker, seldom acknowledged side of caregiving as viewed from the author's personal experience.