one cold winter night,
resting on the golden pew
deeply lost in your thoughts
voice of loving prayers soft and shiny rainbow lights
distance between you and i
an alluring mystery
a heartbroken agony
where are you Neel?
mischievous grin
deep eyes
melting like caramel,
my soul resides within you
maneuvering ways to my heart
quirky eyes catches mine
winks at me,
in the depths of the night.
His fingers entangling mine
savior from drowning in the loneliness.
gleaming moon, swishing breath
next to mine.
lazing in a bliss.
ooh just a dream? ? ? ?
a fantasy, , , , ,
blink my eyes twice
pulls me back
the chasm of the valley
he smirked
sharing another glance,
across the golden pew
remaining moment
Searching for the cause
in your eyes
allowing a moment of thought.
warmth of melting breath
pulsing through my veins,
mysterious man of my dreams
brightness of the rising sun swaddles him,
mouthful of unsaid words
my mind chasing flairs
a stranger I know nothing about
in your presence.
shaken my core,
concealing my deepest emotions,
love like never happened before'
to be continued...................! !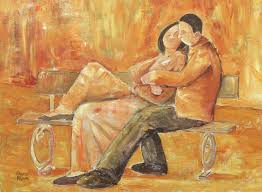 Tuesday, April 19, 2016
Topic(s) of this poem: agony,dreams,romance