A drop fell on my temple,
Another fell on my eyes and brim,
A half of dozen kissed my bosom and core,
And made my soul chuckle out loud.

A few fell out on the pavement! ! ! !
they went out to wash the grime,
I envisage are they pearls,
What neck-late could i abrade,

The meadow replaced in shinny fish pond,
The birds are chanting and frolicking,
The sunshine spread the hue...
The rainbow slit from the sky,

The galaxy bringing down million orbs,
And showering them in the hazy delight,
and gloom is falling from the space,
now chasing the song of the birds at dawn..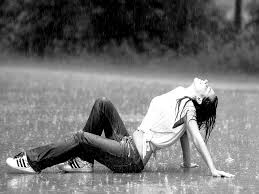 Saturday, September 19, 2015
Topic(s) of this poem: love and loss,narrative,nature