The hard frost of Lent
Has gradually thawed.
And we calmly await,
The subtle miracle
That gives significance
To life's shadowy forms.
This is a night of strife,
That scans the centuries,
When deliverance and despair
Stake their claim on the psyche.

O Lady of Mercy,
Bless us in our brokenness,
As we offer bread and flowers,
As we discard the old, habitual ways.

O Lady of Grace,
Radiant heart of the Dawn,
Accept our human flaws,
May the spirit sanctify the flesh.

In this dreamless, cosmetic age
Of endless distractions,
We are lost in labyrinths
Looking for guidance.
We tend to inspect the air
For the scent of permanence.
Thus we cling to time worn rituals:
The flickering of a candle flame,
To symbolize His Presence,
Emerging from the veil of darkness;
Pure water and fresh fire
To caress the scars of Time.
We must prepare ourselves
For the moment that merges
With teeming Eternity;
When the frail, battered self
Retreats and a clear world
Of Being is born.
When even in old bones
The pith is gently stirred
And purpose is rekindled.

Easter is the year's ascension.
For at the stroke of midnight,
Spring time's revelation
Will herald the coming
Of a Greater Light.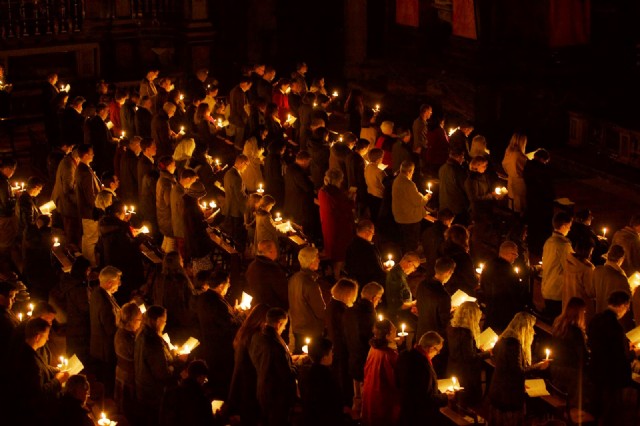 Thursday, November 30, 2017
Topic(s) of this poem: easter